Weddings at Matamanoa
Down the Aisle Matamanoa Style

Marry on the beach at sunset or anywhere on the island, under an arch covered in voile and flowers, traditional Tapa cloth, bamboo and white pillars decorated with tropical flowers leading up to the arch. Two Fijian warriors and a bridesmaid in traditional Fijian costume escort the bride. Beautiful tropical orchid bouquet & matching buttonhole, staff choir, video, photographer, champagne dinner for two - our wedding co-ordinator arranges everything for you, all you have to do is be there.
Matamanoa Island Wedding Packages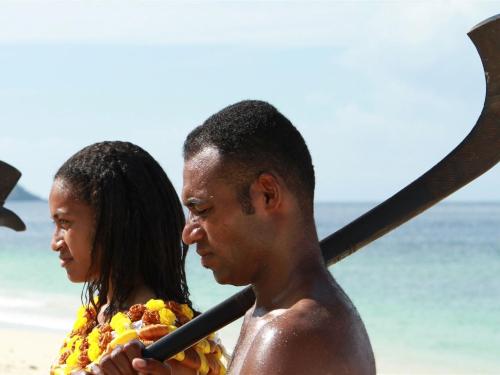 Valid 01 April 2017– 31 March 2018
all prices are in Fiji Dollars and include all government taxes
Wedding Package – RACK FJD$3,995 - includes all Taxes (minimum charge) whether all or selected services are utilised, should some of the services not be required, then they cannot be substituted for other services.
Weddings after 1500/3.00PM (Sunset Weddings) will require the Minister or Celebrant to overnight, due to boating schedules, please see additional charge for this under Sunset Wedding.
MATAMANOA INCLUSIVE WEDDING PACKAGE
Wedding Minister - Methodist Denomination or Celebrant (your choice)
Either Bridal Bouquet or Bridal Flowers for hair adornment
Groom Buttonhole or Flower Lei (looks great and ideal for a tropical wedding!)
Fijian Warriors (2), Bridesmaid (1) dressed in traditional Fijian Costume to escort the Bride to the Groom
An elegant pair of Jennifer Heath pearl studs for the Bride to wear on her big day or as a keepsake
Photographer (not professional). Minimum 36 Digital Images on a memory stick, the photographer is your wedding planner

In the case of those residing in either the UK or Europe, please add FJD$200 for the Apostille Stamp includes Taxes/non commissionable.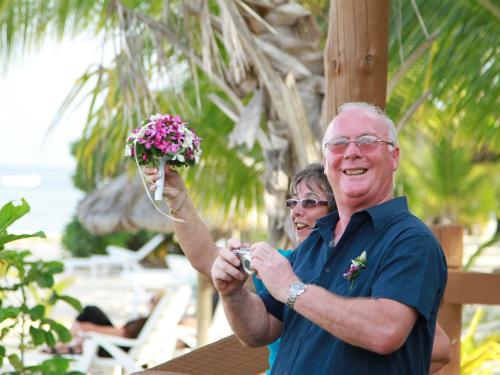 Extras - tailor your wedding with any of the following:
Wedding Cake, designed by our head chef - FJD$280.00
Wedding Dinner for Two, Wine and Beverage not included,Should Pax have pre purchased Meal Plan then the cost of the Dinner Meal Plan will be deducted from the above Wedding Dinner cost - FJD$400.00
Matamanoa Choir - FJD$250.00
Hire of Traditional Fijian Masi (for two costumes) - FJD$380.00
Bridal Hairstyling FJD$190
Makeup FJD$105
Lomani Bridal Package by Senikai Spa FJD$395 - For the blooming bride to be, our 'Lailai' face treatment gives a radiant glow to enhance our colour code makeup application for a natural and photogenic appearance. Your nails are manicured and finished with your choice of French manicure or polish while our bridal hair stylist will create the pefect look for your special day
Additional Floral Selections:
Flower Lei FJD$140
Flower Tiara FJD$140
Hair Comb Flowers FJD$90
Bridesmaid Posy FJD$130
Corsage FJD$90
Extra Buttonhold FJD$65
Wired Bloom FJD$65
Spray Orchid FJD$90

Sunset Weddings Matamanoa Style
Basic Wedding Package Price of - FJD$3,995
Plus "extras" from the tailor made selection
Travel, meals and overnight accommodation for the celebrant or minister FJD$400
Total without tailor made additions FJD$4,395
Indulge - Couples Spa Package FJD$600 (for two)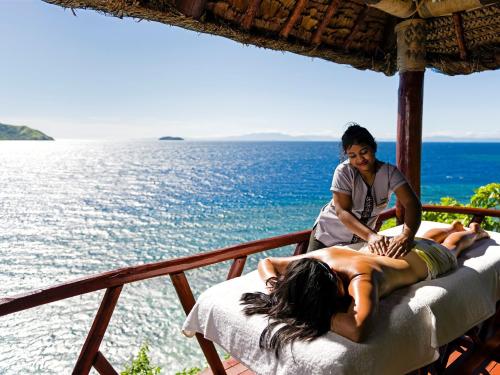 Pure indulgence! Select any six of the below treatments to share with your loved one throughout your stay. Spoil and pamper yourselves at Matamanoa Island Resort
'Daku' Aromatic Back Massage 30min
'Senikau' Aromatic Body Massage 60min
'Turaga' Face Pack for Him 50min
'Titobu' Purifying Facial 60min
Shiatsu massage
'Matamu' Rejuvenating Facial 60min
'Qaqalo' Deluxe Manicure 45min
'Yava' Spa Pedicure 50min

The following documentation is required by Fiji law for those wishing to marry in the Fiji Islands
Birth Certificate
Passport
In the case of either party being divorced 'decri absolute'
In the case of either party having changed their name 'deed pool'
Applications must meet the requirements for marriage in Fiji
Photocopies of passports and birth certificates must be certified
Applications must be signed by applicants and witnessed by a Notary Public, Lawyer, Commissioner of Oaths, JP or any authorised person in the district where the applicants live
Statutory Declaration: for former citizens of Fiji and citizens of Fiji on work visa living abroad for less than two years
Single Status Letter for:
non-resident marrying in Fiji
non-resident marrying a local
former citizen of Fiji with two years and above residency abroad
All documents to be sent back to Matamanoa Island's Airport Office either by email on reservations@matamanoa.com or fax on +679 672 0282
Professional Photographer